Welcome to Haystack Farm and Feeds
About Us
Haystack Farm and Feeds produces Special Blend Horse Pellets, Haystack Wildberry Horse Treats, Timothy Pellets, Orchard Grass Pellets and a multitude of other high quality feeds. We are a locally owned and operated company that focuses on producing quality feeds for a reasonable price!  Our feeds are available in the Pacific Northwest as well as Alaska and Montana. See our listing for current dealers!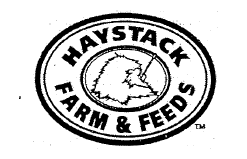 Haystack Farm and Feeds  is tucked away outside of Culver, Oregon, a great farming community in Central Oregon. The area is known for many specialty crops and quality hays which are grown in the High Desert. In 1989 the original feed mill was built to produce alfalfa pellets. In 2003 Kerry & Trish Backsen purchased the mill and farm. Since 2003 many expansions and improvements have been made to increase the Culver Mills production and to expand the line of Haystack Feeds.  In January 2016 two additional pellet mills were installed at the Culver Mill. In the spring of 2022, a new robot was installed which allows a significant increase in production! Haystack Farm and Feeds is continually looking for opportunities to improve, expand and increase the efficiency and quality of their production.
We support our local farmers and pride ourselves with keeping our quality consistent from bag to bag! Our feeds should never be a surprise to you or your animals!
Mail
Mailing Address: P.O. Box 2487 Redmond OR 97756
Culver Mill Address: 556 SW Holly Lane Culver, OR 97734